We are very proud to present the same great coffee as before but now in reusable containers.
Reduce waste and save money with our Eco Pots. Read on to learn more...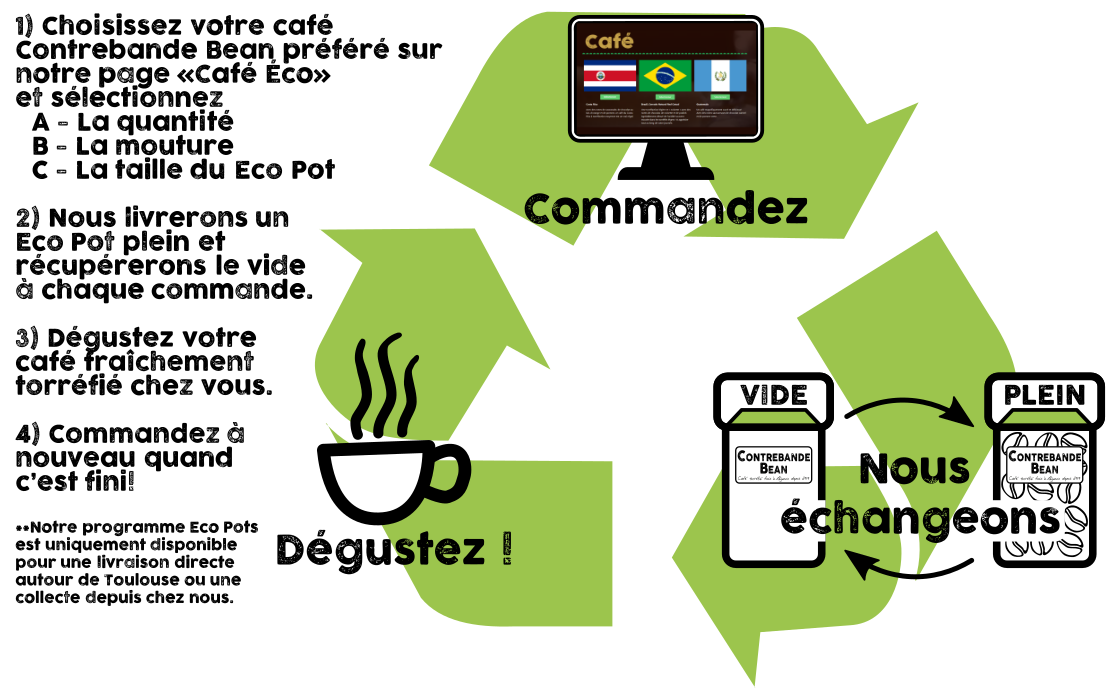 Our Eco Coffee idea is very simple. We want to reduce waste and save you a bit of money. In order to do this, you can join our Eco Coffee scheme by visiting our Eco Coffee page and choosing the quantity of coffee you want, the type of grind you need, and choosing to purchase a new, or swap an existing, Contrebande Bean Eco Pot.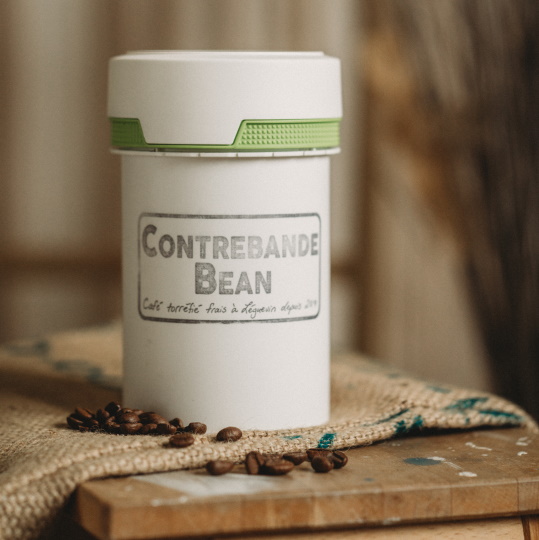 Each time you place a new coffee order, we will fill up an Eco Pot here in the roastery, and then deliver it directly to you. When we deliver your new order in an Eco Pot, we will collect your old Eco Pot and take it back with us to clean and re-use. Think of it like a Milkman delivery scheme, for coffee!
Our Eco Pots come in two convenient sizes:
The small Eco Pot (11,1 x 17,4 cm) - holds up to 350grams - 5,50 €
The large Eco Pot (13,1 x 23,2 cm) - holds up to 750grams - 6,95 €
For reference, a standard bag of our coffee is 200g and, in an Eco Pot, will cost 5,50€
If you would like to order multiple types of coffee, you will need one pot for each type of coffee you order (please contact us directly for multi-buy discounts).
Why use our Eco Pots?
Pour économiser de l'argent. Nous avons choisi de vendre tous nos cafés au prix de 27,50€ le kilo mais si vous souhaitez acheter notre café en sachet il faudra ajouter le prix du sachet ce qui sera un peu plus cher (par exemple .35€ pour un sachet de 200g)
To reduce waste. Did you know you cannot recycle coffee bags? They are considered "mixed media" because they contain metal and paper. It is impossible to separate the two, so coffee bags can only be disposed of with general waste.
How good is the Eco Pot for storage?
Our Eco Pots are airtight, opaque (they block out light), durable and washable. You can keep them in the cupboard or store them in the fridge or freezer. For short and medium term coffee storage (when our coffee is at it's best anyway!), they are perfect.
The Eco Pots do not have degassing valves though, so we do not recommend them for long term storage of coffee (3+ months). Long term, if coffee is in a container that does not have the ability to release gasses produced during the roasting and "settling" process, the coffee flavour can be affected. While your coffee would still be completely safe to drink, this may mean it starts to develop a stale or bland flavour.
If I buy an Eco Pot, is it mine?
Buying an Eco Pot from us means you will own an Eco Pot. If you ever decide to stop buying coffee from us, we will be very sad, but you will get to keep the Eco Pot in your possession, forever.
As long as you continue to buy from our Eco Coffee scheme, we will exchange pots with you for each order. We will bring you a new, full Eco Pot of coffee and you will return your empty Eco Pot to us.
Do I have to exchange my Eco Pot each time? ?
No, not necessarily. If you would like to keep your same pot, you are always welcome to arrange to come and visit us to collect your coffee. In fact, if you would like to come collect your coffee directly from us, you can use one of our Eco Pots or you can bring a container of your own (and still benefit from the Eco Coffee reduced price).
Using an Eco Pot is necessary though, if we are delivering coffee to you. It allows us to package and transport your coffee safely and hygienically. Unfortunately, it's not possible for us to keep track of individual containers for different clients so we have opted to offer one type of container to everyone who joins the scheme.
Do I need to clean my Eco Pot before I return it?
Nope. We will clean and relabel every Eco Pot after each use. All of our Eco Pots are washed and sterilized at 80°C before they are relabeled and re-used. Cleanliness and hygiene is very important to us, so we will always thoroughly clean any container that comes back to us.
What if my Eco Pot breaks?
Each time we deliver a new Eco Pot to you, we will ensure it is in good, clean condition. This means if you break your Eco Pot while it is in your possession, it is your responsibility. Pots that are cracked or broken will not be taken back and you will be asked to buy a new Eco Pot to continue in our Eco Coffee scheme.