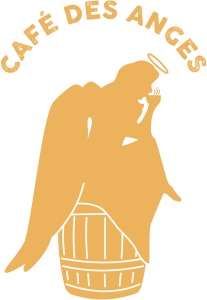 Producing good coffee is an art that normally requires a lot of experimentation and sampling. Roasters have been maturing and infusing coffee beans with bourbon and whiskey for some time now, with varied, complex and delicious results. But since we're located in the south of France, where the food is incredible and the drinks even better, we wanted to experiment with local spirits. We sought to combine the best coffee flavors with some of the most distinct and delicious flavors produced right here in our part of the world.
With a little help from our favourite wine guy, Patrick, from Le Choix du Vin (https://m.facebook.com/profile.php?id=100057259247676), our search led us to the doorstep of L'Encantada Armagnac, based in Vic-Fezensac. There, Vincent, the cellar master, offered us a recently emptied barrel of armagnac from their Gnac Armagnac rangehttps://lencantada.fr/armagnac/xo-gnac-20-cl/). When we retrieve a recently emptied barrel, the wood inside is still damp from the years it spent perfecting the recently emptied Armagnac. While all the liquid has been drained, the wood has retained the aromas and a good amount of moisture. Since green coffee beans are usually very dry, they naturally absorb the new moisture and all those new aromas.
But why is it called Café des Anges? Well, during the maturation process, Armagnac (and Cognac) loses some of its alcohol content through evaporation. In France, this phenomenon is called, very romantically, Le Part des Anges. During our tests, one of our dear friends and biggest supporters, Cyril from Le Petit Coquin (https://www.lepetitcoquinpatisserie.fr/), told us the history of ;e Part des Anges and suggested this beautiful name! Not only does this name give the coffee a well-deserved heavenly name, but it also makes a well-earned nod to the café's Armagnac origins!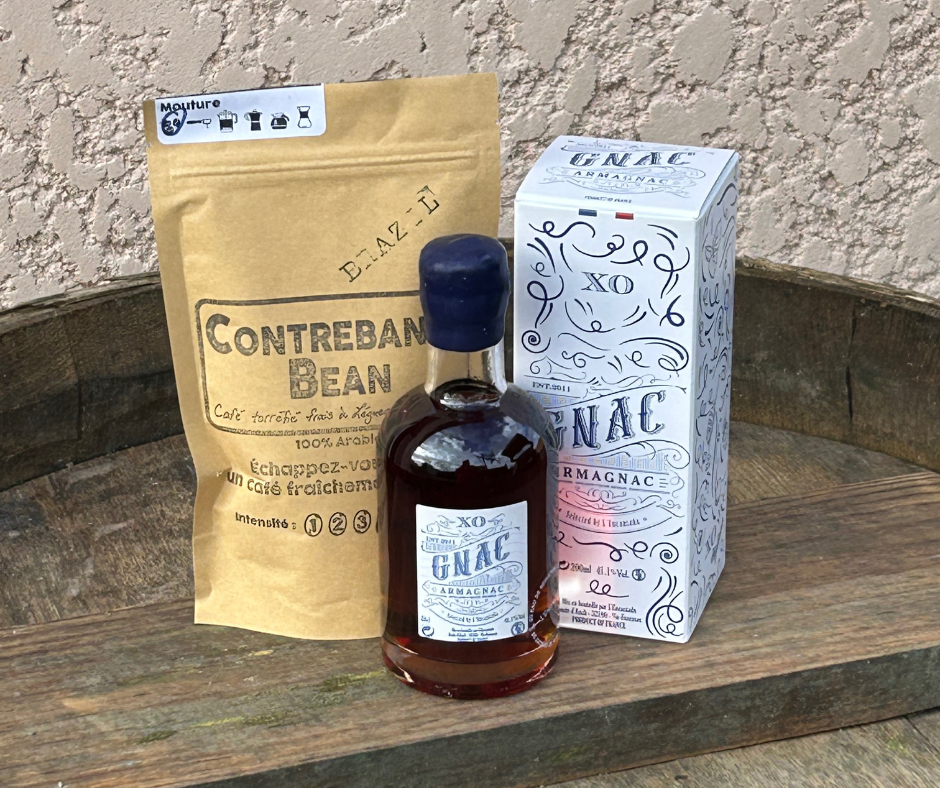 The best friends! The two products that have joined forces to offer you the first edition of the Café des Anges.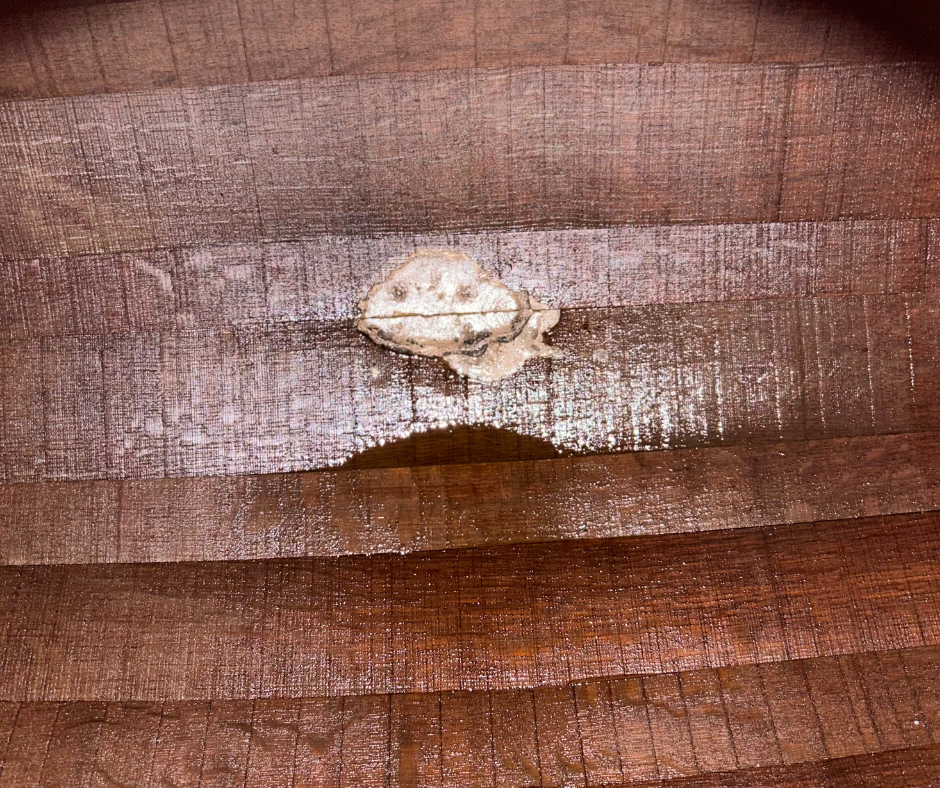 The inside of a recently emptied armagnac barrel.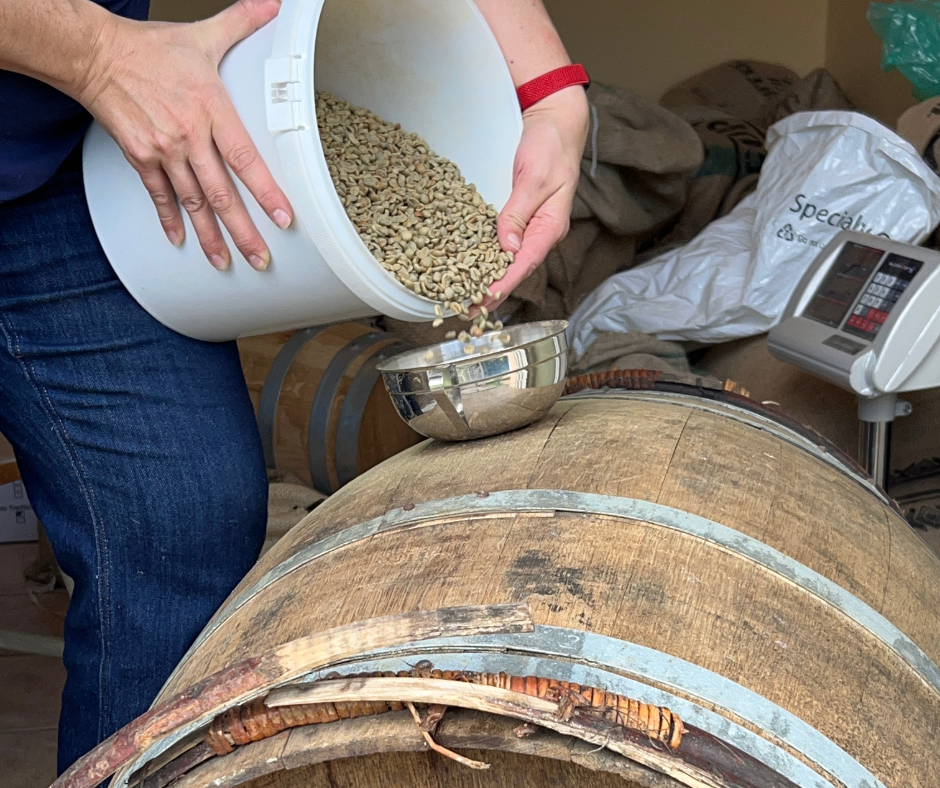 Filling the empty barrel by hand, 5 kg at a time!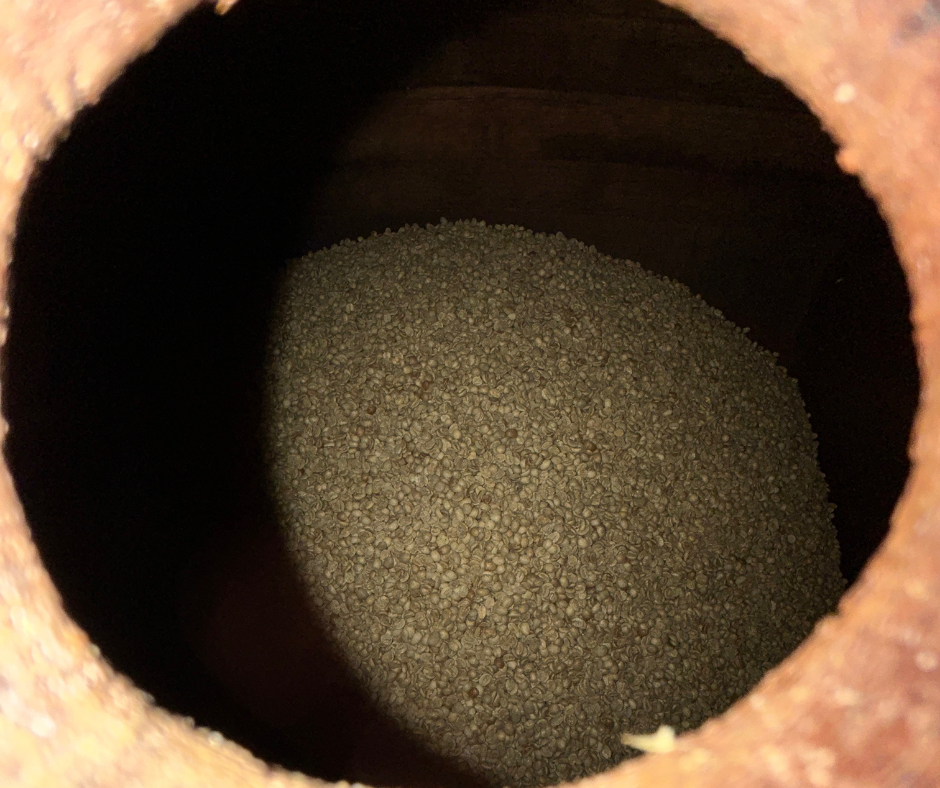 A look inside the filled barrel before it is closed. Over the next few weeks, the barrel will be turned daily to help distribute the moisture evenly throughout the grains.
We view our Café des Anges range as a journey, not a destination.
The first edition of the Café des Anges presents our Brazilian Cascavel Vermelha infused with Gnac Armagnac. For the second edition, only time will tell! what we will create Each coffee in the Café des Anges line will be different, and each will be available in limited quantities for a limited time. Once they're gone, they're gone! Our goal, however, is to keep exploring and experimenting.
We sincerely hope you will enjoy traveling on this adventure with us!